Image
Image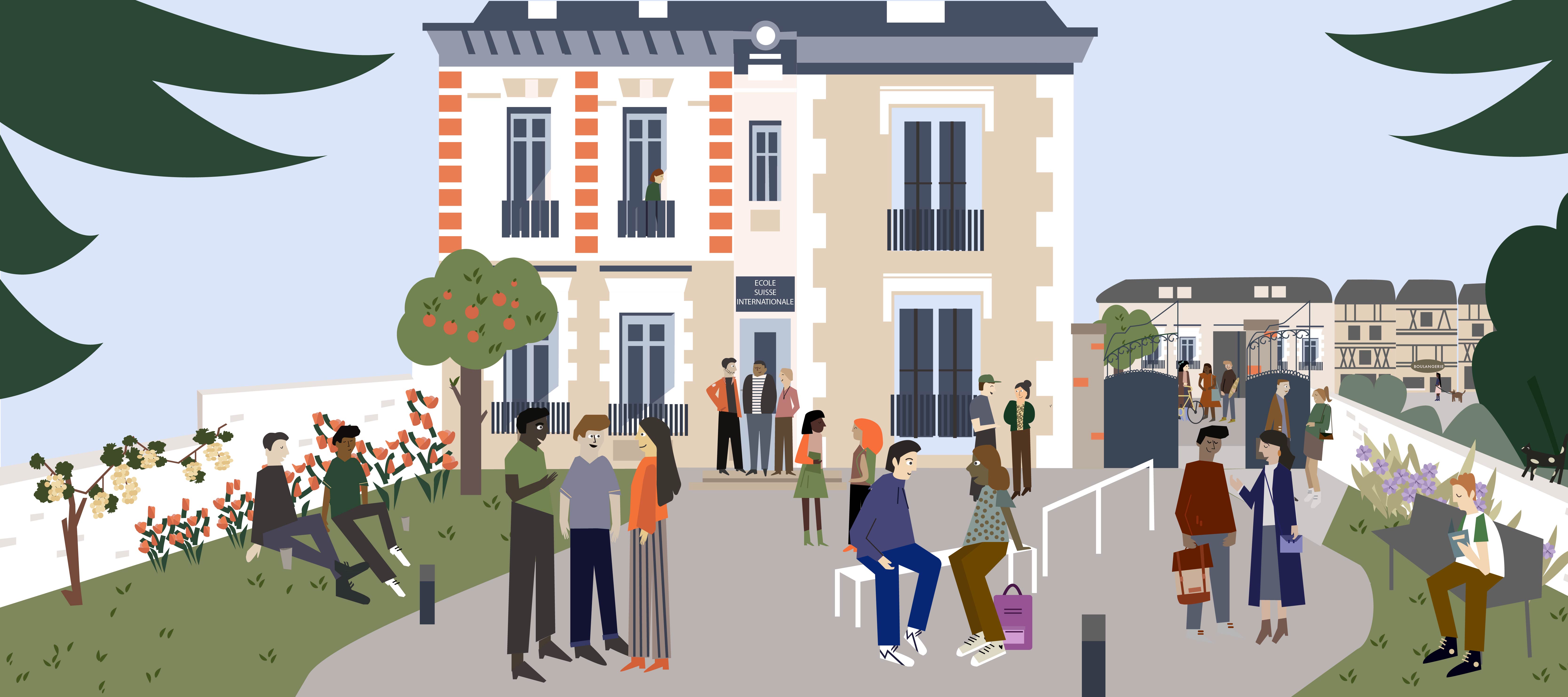 Contenu
Colonne
Colonne
A friendly, stimulating environment for French language study
Colonne
Colonne
A school recognized for excellence in group language studies since 1995
Our school in Dijon is specialized in welcoming student groups for French language and culture study programs and/or intensive preparatory courses for DELF-DALF exams:
► A STRONG TRACK RECORD IN ORGANIZING FIRST-RATE FRENCH LANGUAGE IMMERSION PROGRAMS.
► A NETWORK OF WARM, WELCOMING HOST FAMILIES to ensure each student's well-being and accommodation satisfaction.
An authentic French cultural experience, guaranteeing every student the opportunity to practice their French language intensively, making rapid progress in a short space of time.
Careful collaboration with group leaders to customize content.
Adaptable teaching methods according to the profile and specific needs of each group.
A friendly, inviting and reassuring language learning environment.
Colonne
Colonne
Our Dijon school is based in an elegant house right in the city center. Located in a lively neighborhood, the house has optimal classrooms and a charming private garden - the ideal environment in which to study French and particularly suited to international students. Situated a few minutes walk from the historic center, our school has plenty of public transport options, such as direct bus and tram routes to the main train station.
Only 1h40 from Paris, 1h30 from Basel and 2h from the CDG Airport in Paris, Dijon is a particularly dynamic, mid-sized regional capital full of French charm.
A UNESCO World Heritage-listed gastronomy hub, Dijon's rich history and architecture is a must-see in France, and the city's vibrant cultural life features numerous museums, performing arts events and concert halls.
Dijon's city center is a wonderful place to discover: come and wander the bustling pedestrian streets, sample wares from the covered fresh food market, take a tour of the city's many boutiques, and have a drink or a meal on an outdoor terrace.
Studying French at the École Suisse Internationale presents an ideal opportunity to discover the city of DIJON AND THE BURGUNDY FRANCHE-COMTE REGION, world renowned for its heritage, lifestyle and culinary traditions: exceptional vineyards and gastronomic delights, famous historic sites (castles, abbeys, etc.) and beautiful natural landscapes.
Colonne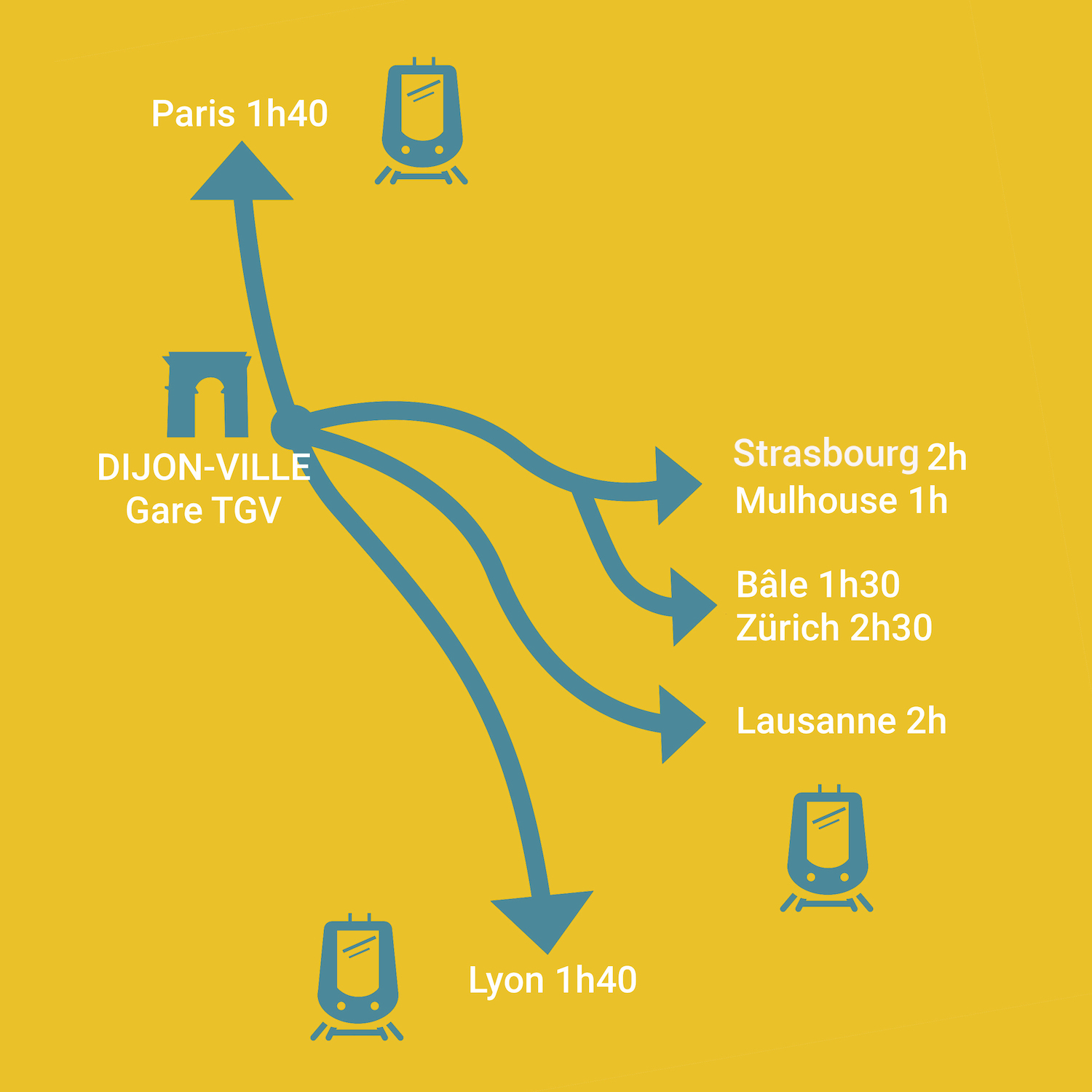 Colonne
Colonne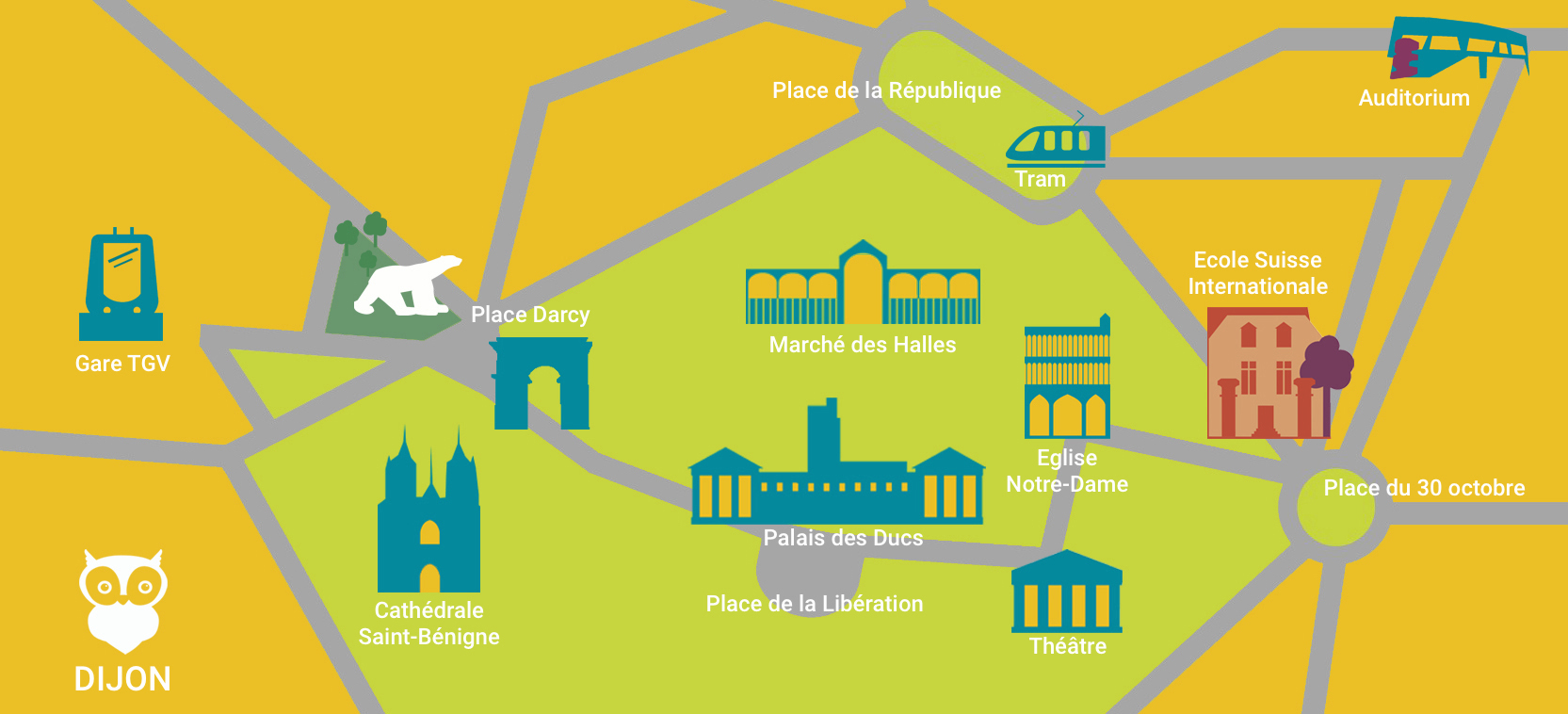 Colonne
Colonne
The École Suisse Internationale is certified by eduQua, the preeminent Swiss quality label for further education institutions, and is an official member of the Groupement FLE, a professional grouping of French language schools, guaranteeing a consistently high standard of service to students seeking to learn French in France.
Colonne
Colonne
Our partner schools share their opinions on their language stay in Dijon
Colonne
Véronique - Teacher and group leader

 (Translation) In May, I accompanied two classes (46 students) from KV Zurich on a language stay at the Ecole Suisse in Dijon and we were very satisfied with our stay.
Each student stayed with a host family carefully chosen by Charline. Well done! I was impressed by the way the school and the host families looked after the students: thanks to these different players complementing each other, the students were able to make the most of their two-week immersion. The cooperation between the host families and the school was exemplary.
In class, the pupils had the opportunity to deepen their knowledge in preparation for the DELF B2 exam, and with the host family they were able to practise everyday French. What's more, with the help of the 'diary of their stay', the students were able to discuss subjects seen in class with their host family.
At the end of the course, the Swiss school sent me a very comprehensive report, a 360-degree evaluation (students, school, host families).
Dijon is a town on a human scale, ideal for groups of teenagers.
My experience in Dijon was very positive! THANK YOU to the whole team! ... I'll certainly be back with my students next year. (May 2023)
Sandra - Teacher and group leader

 (Translation) I've been taking my classes on language holidays to Dijon for years and I'm always VERY satisfied with the Ecole Suisse. You can count on the Dijon team! They offer a variety of courses, get on well with the students straight away and know how to motivate them with lots of humour. And the result? The classes always come back very enthusiastic about their language stay. A BIG THANK YOU to the whole team for your extraordinary commitment. :) (November 2022)
Albena - Teacher and group leader

 The Ecole Suisse of Dijon offered us a very good organisation of the courses and the language stay, offering us tailor-made courses, adapted to the specific needs and levels of our students. The teachers are very professional, friendly, motivated and experienced, the atmosphere at the school is very welcoming (classes are held in good spirits, with varied and fun activities) and the students returned very satisfied with the school and the host families, and above all with the impression that they were no longer afraid to speak French! Many thanks to everyone, especially Charline! And of course, we'll be back very soon! (October 2022)
Klara - Teacher and group leader

 (Translation) My 3 classes of the Lucerne Commercial School took part in a two-week language course at the Ecole Suisse this April. All students benefited from the intensive preparation in the 4 small classes and incredibly, all 44 students passed the Delf B2 in May!
A big thank you to all the teachers at the Ecole Suisse for your varied, motivating and humorous lessons.
We would also like to praise the host families. The students appreciated the good cuisine and the warmth with which they were received.
Our school will be back! (April 2022.)
Walter - Teacher and group leader

  (Translation) As a French teacher I have been accompanying my students for several years on their language stay at the Ecole Suisse in Dijon. I am completely satisfied with all the services offered: Organisation, courses, teachers and host families. Thank you for everything! (June 2022.)
Colonne
Colonne