Image
Image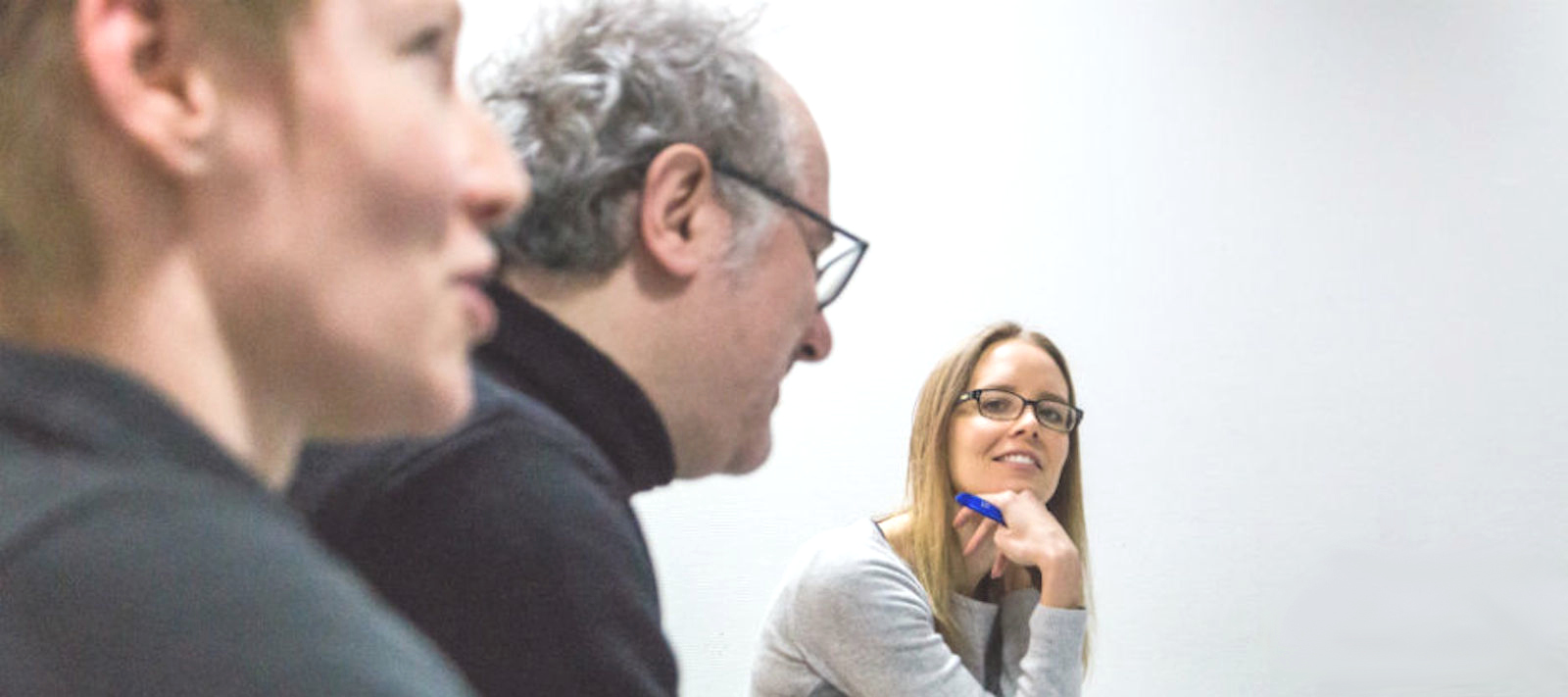 Contenu
Colonne
Colonne
Lively French classes in very small groups
We offer quality French tuition in Paris all year round, which is adaptable to your specific objectives and availability.
Our small classes are designed to help you study French in a friendly academic environment and in the most effective way possible, with real in-class interaction that improves your oral expression skills, and features individual educational support.
Onglet
Standard Program (15 hours)
Semi-intensive Program (20 hours)
Intensive Program (22.5 hours)
Combined Program
---
Classes divided into small groups by proficiency level A1 to C1
8 students maximum per class
In-person classes at our Paris language school
---
2.5 hours of French lessons and educational activities
In-person classes in our Paris language school
Level A2+ to B2
---
Colonne
Colonne
4 French language programs taught in small-sized groups (4 - 8 students), with morning and/or afternoon sessions tailored to your needs
Colonne
Colonne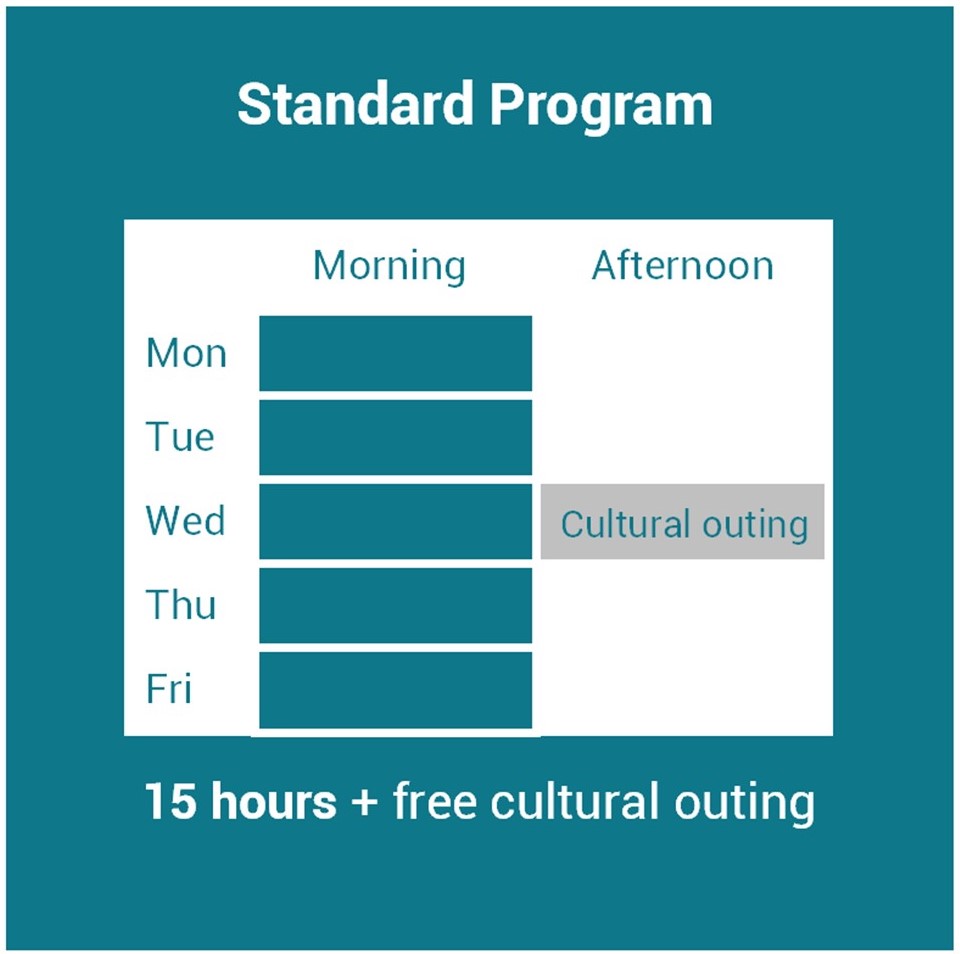 Colonne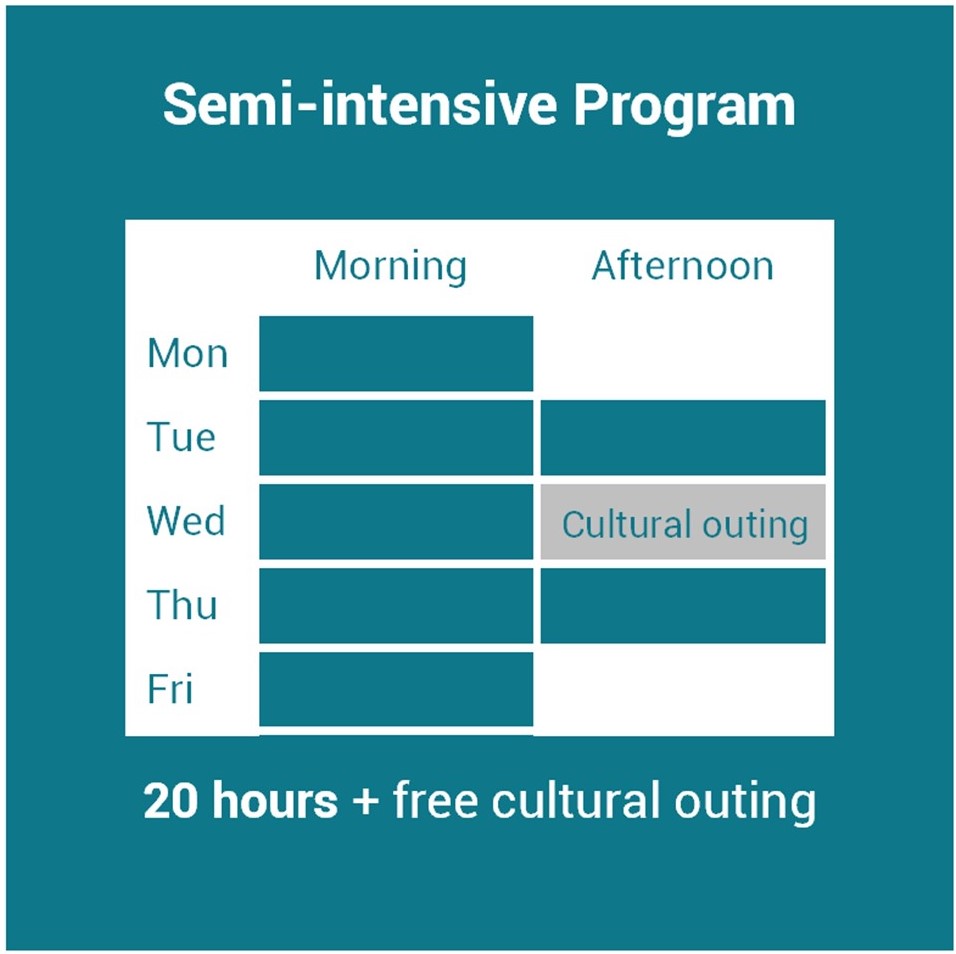 Colonne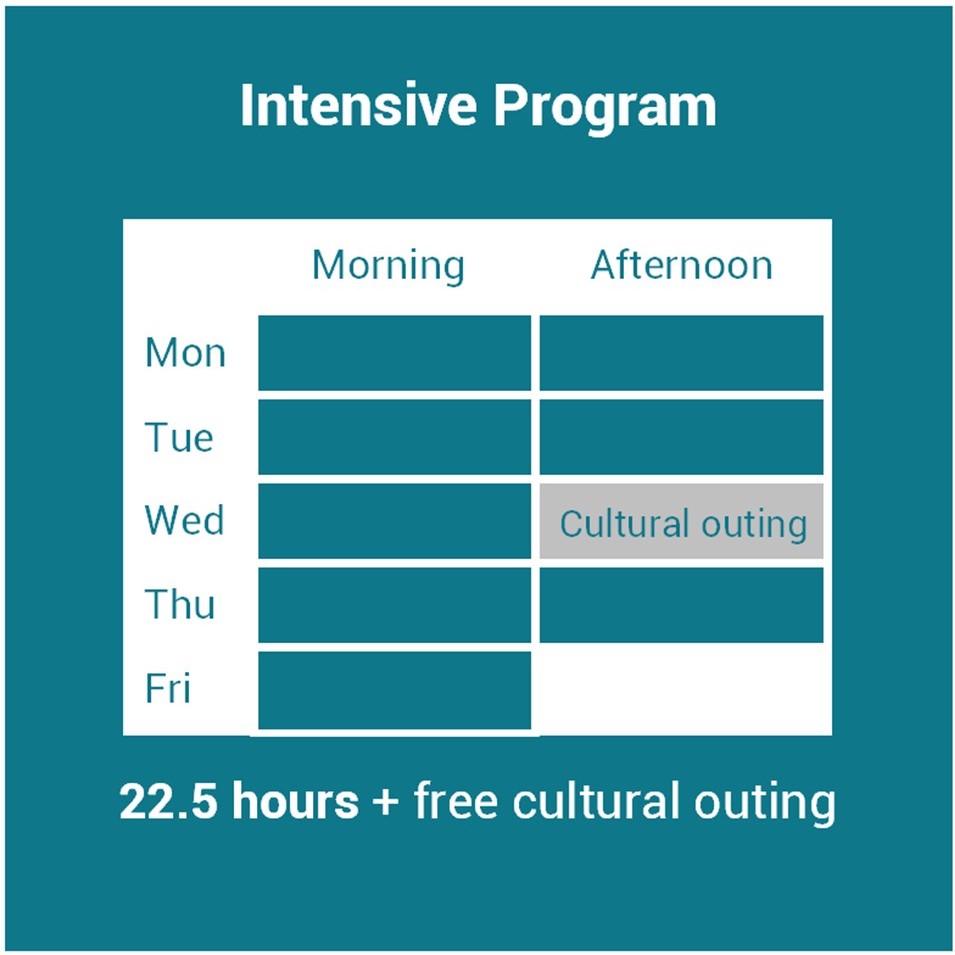 Colonne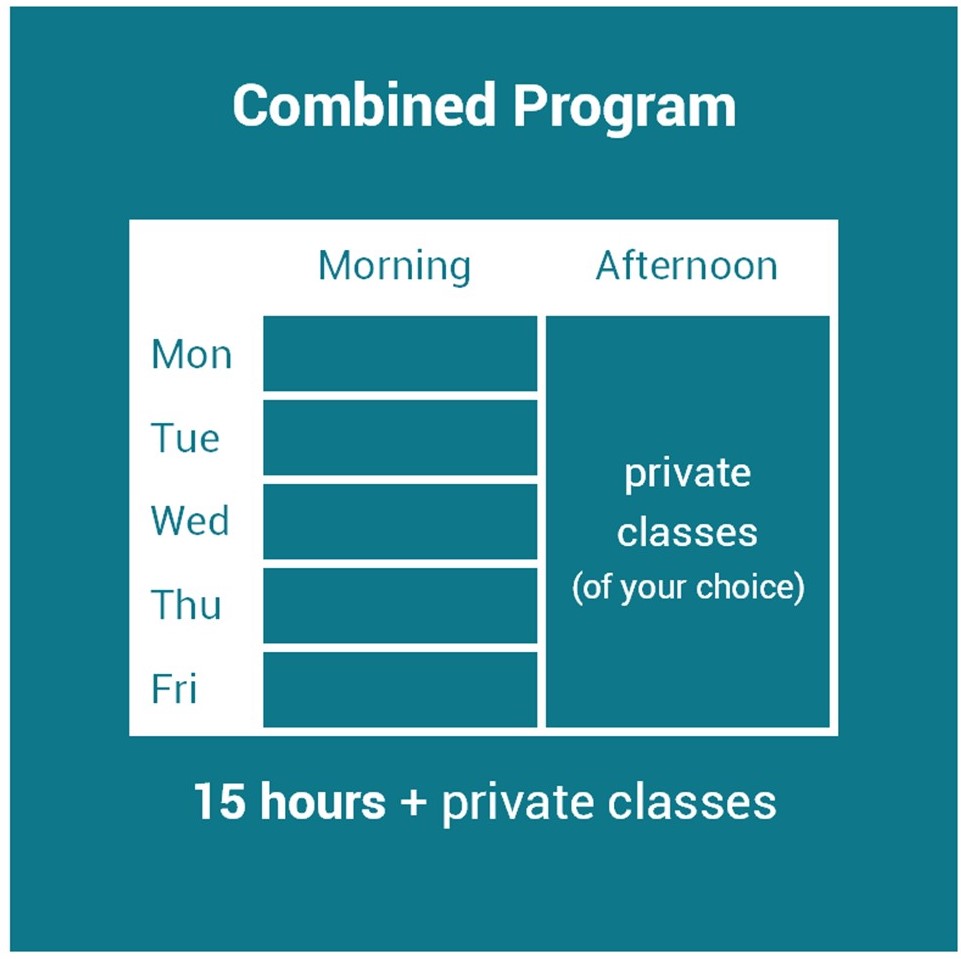 Colonne
Colonne

All our French language programs are available all year round (excluding our annual closure periods). Weekly enrollment openings.
Colonne
Colonne
French course curriculum
Our French course curriculum is consistent across all 4 programs, and is adapted to adhere to the three broad learning levels of the Common European Framework of Reference for Languages (CEFR): Basic User (A) - Independent User (B) - Proficient User (C).
To ensure authentic interaction and participation opportunities for every single student, our classes are divided into small groups according to language proficiency level, with a maximum of 8 students per class.
Oral expression practice is strongly encouraged throughout all classes and activities.
Morning classes
Development of oral and written expression and comprehension skills.
Reinforcement of grammar and lexical competencies.
Individual educational support.
Afternoon activities
Oral expression activities: intensive spoken French practice, improvement of French pronunciation skills, interactive games, debates on a range of themes.
French life: discover what everyday French life is like and discuss different aspects of French society and culture.
Every Wednesday afternoon, cultural outings and discovering Paris: explore Parisian neighborhoods, visit exhibitions and cultural events. All activities led by our French teaching staff.
► PREPARATORY CLASSES FOR THE DELF-DALF are available as part of our Combined Program.
Colonne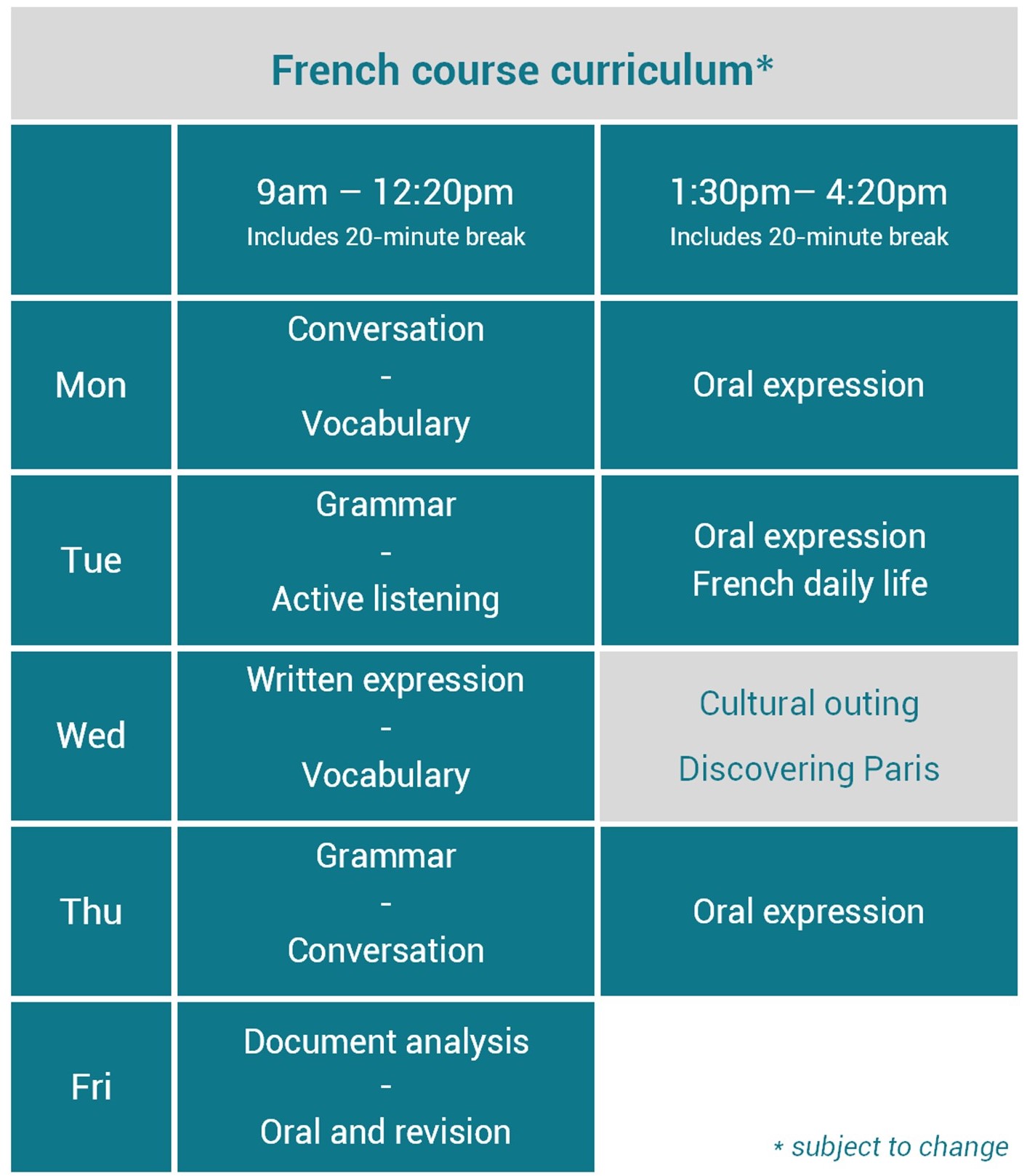 Colonne
Colonne
 

French language program fees

 

Our fees operate are on a sliding scale according to the number of weeks of your enrollment.

The École Suisse Internationale de Paris welcomes all students aged 18 and over (extended to students aged 17 years under certain conditions).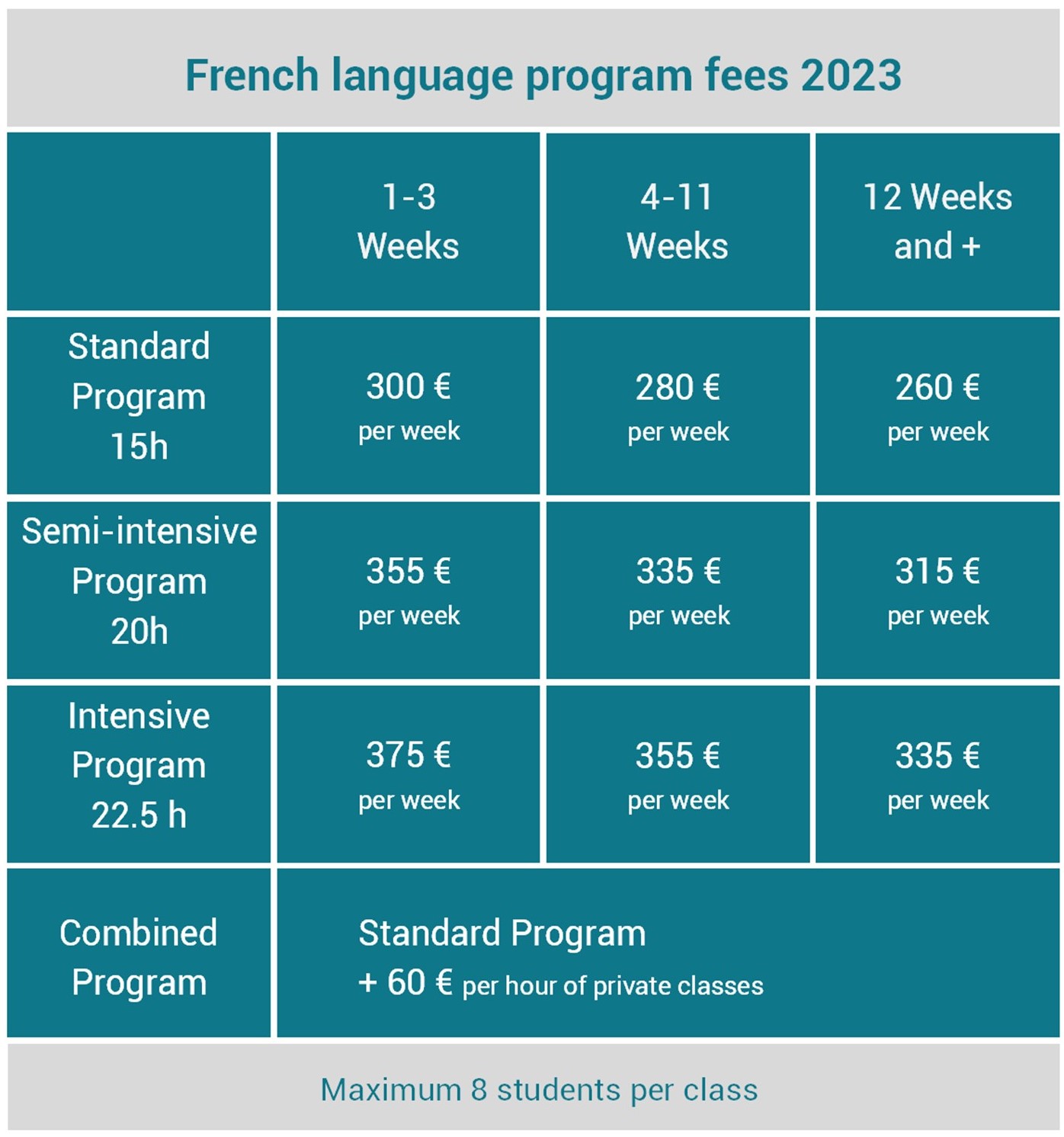 Prices for the year 2023
+ Administrative costs and membership fee : 70 €. 
Individual registration valid for one year and applicable to all our French language courses in Paris, Dijon and online. Price includes all teaching materials used in class. Price adjustments apply to national holidays (any missing classes will be deducted from the total fee).
Colonne
Colonne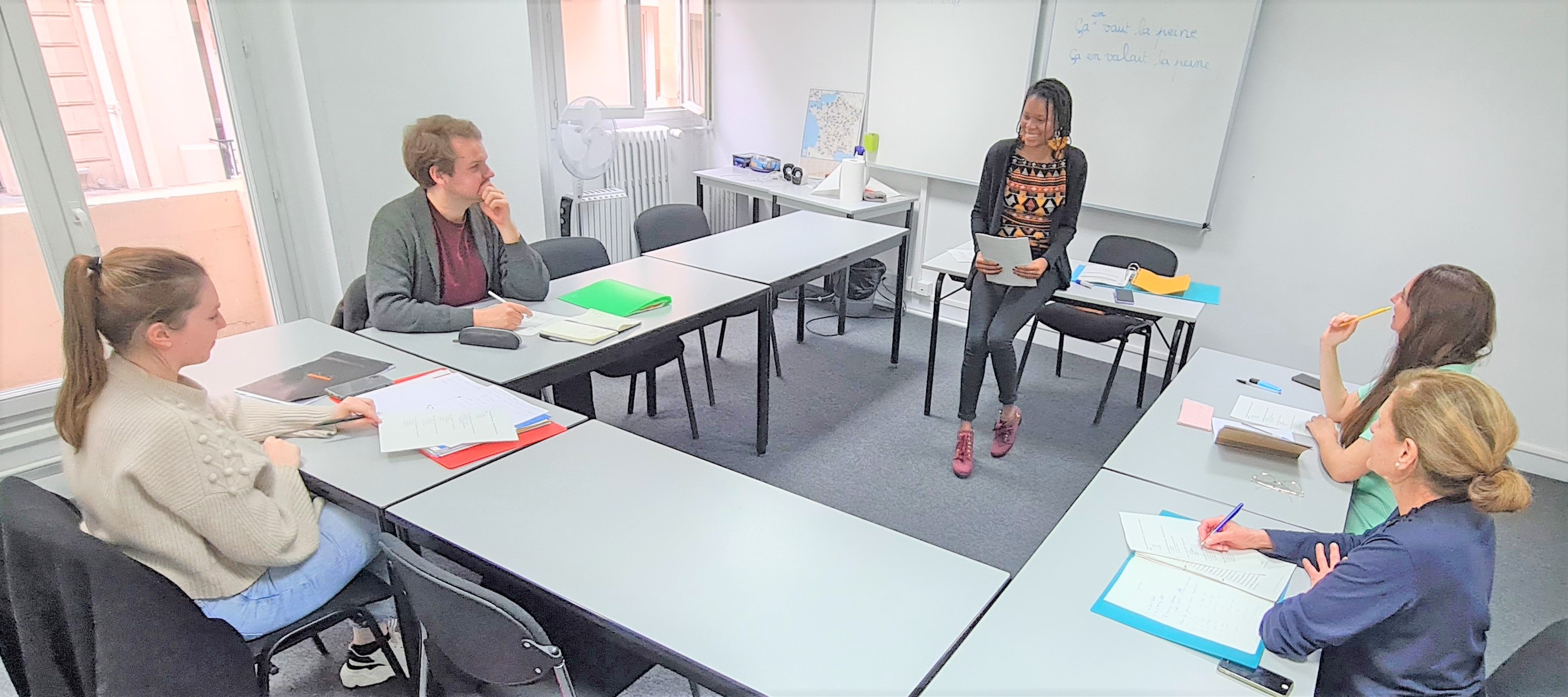 Colonne
Colonne
You are a language assistant and you work in secondary schools. This specific programme will enable you to consolidate your French skills, reinforce your knowledge of French society and put into practice concrete activities to teach a foreign language.
Colonne
Colonne
A programme available at different times of the year, except during school holidays, with a French course every week on Wednesday afternoons.
This specific course for language assistants will allow you to
Practise speaking and discuss different current affairs.
Enrich your vocabulary
Consolidate and systematise your grammatical knowledge.
Implement effective learning strategies.
Receive personalised advice on how to achieve your French language objectives (DELF-DALF preparation, etc.)
Experiment with concrete activities to teach languages in a dynamic way to teenagers.
2023 sessions
Wednesdays from 2:30 to 5:00 pm (2.5 hours session, including a 20 minutes break). Dates: contact us.
Price of the course
 135 € for 5 sessions (i.e. 27€ per session). Registration fees offered.
Price includes the teaching material used in class.
For level A2+/B1 (minimum requirement) to B2. Classes open for groups of 4 students at the same proficiency level.
Maximum 12 students per class for the Language Assistants programme. Aged 18 and over. Before any payment is made, we will confirm course availability.
Colonne
Colonne