Image
Image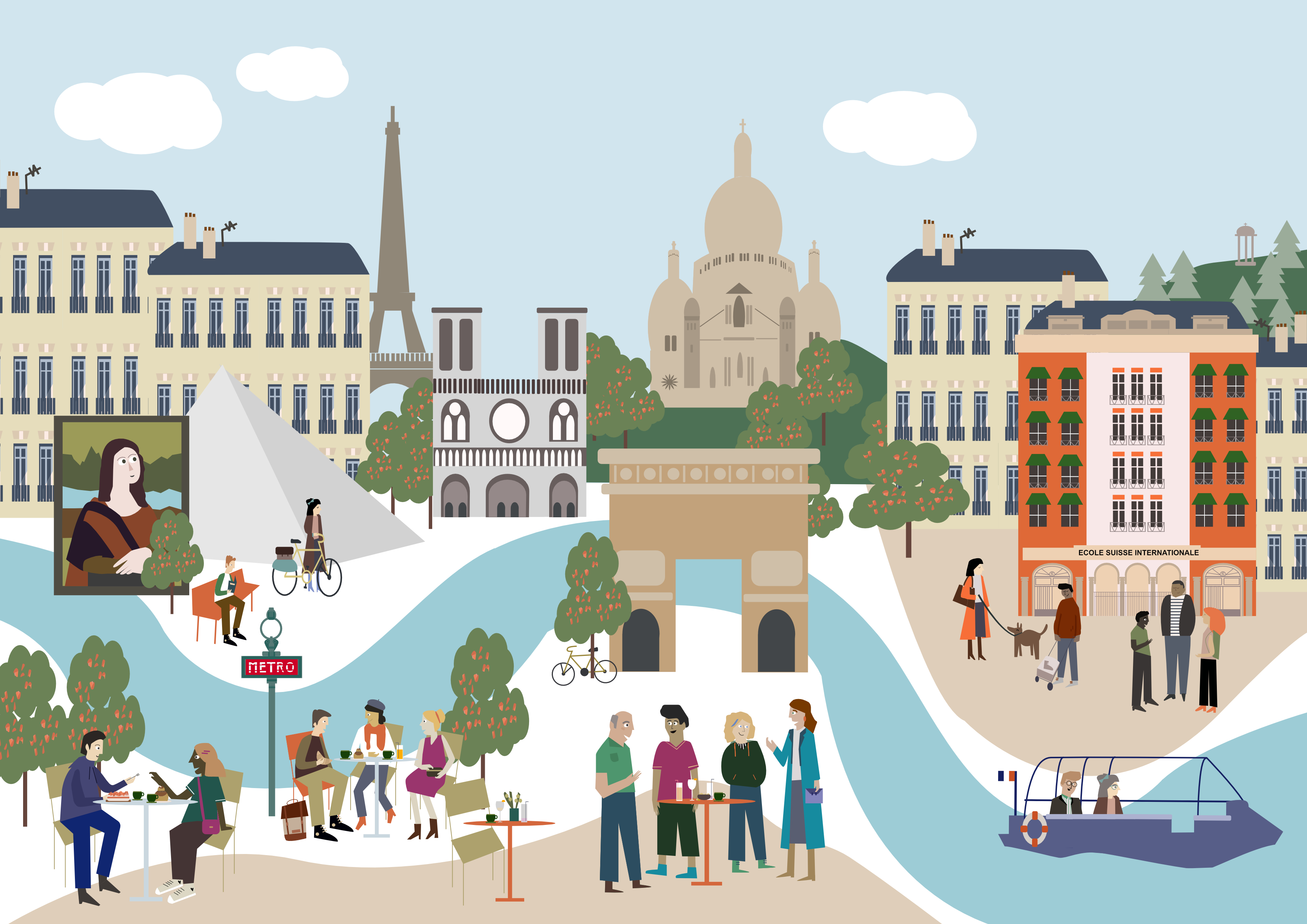 Contenu
Colonne
Colonne
Learn French in Paris or Dijon
Colonne
Quality French tuition and premium customer service.
The École Suisse Internationale welcomes students all year round to study French in a friendly and conducive learning environment. Our teaching methods are effective and we offer programs that can be adapted to accommodate your needs.
 
Two intimately-sized French language schools designed to optimize networking, connection and communication opportunities.
A warm family atmosphere in two spacious, comfortable settings.
Small-sized French classes for each proficiency level.
Flexible French language program options.
Individual support mechanisms adapted to each student's profile.
Highly qualified and experienced teaching and administrative staff.
Our teaching approach is verified and certified annually by the Swiss EduQua quality label.
Our school in Paris is a private higher education establishment (Etablissement d'Enseignement Supérieur Privé).
 
Discover the pleasure of learning and expressing yourself in French. Enjoy an authentic French experience.
Full immersion in French language and culture.
Opportunities for spoken exchange and intensive conversational practice both inside and outside class-time.
Active, participative teaching methods.
Methodical, concrete French tuition.
Original course materials developed entirely by our teaching staff.
Individual educational support to tailor the learning experience to your personal needs and objectives.
Native French language teachers to assist you with making solid, rapid progress.
 
► DISCOVER OUR FRENCH CLASSES IN PARIS
► DISCOVER OUR FRENCH CLASSES IN DIJON
► DISCOVER OUR ONLINE FRENCH CLASSES
A long history of teaching French and hosting cultural exchanges.
The École Suisse Internationale is the primary activity of the Cercle Commercial Suisse, a nonprofit association founded in 1881 in Paris. We first inaugurated our French school in Paris in 1933, and then our school in Dijon in 1995. Over the course of all these years, the École Suisse Internationale has established a solid track record in teaching language learners from a range of different backgrounds (students, professionals, teachers…) and who hail from different nations around the world.
 
Colonne
Colonne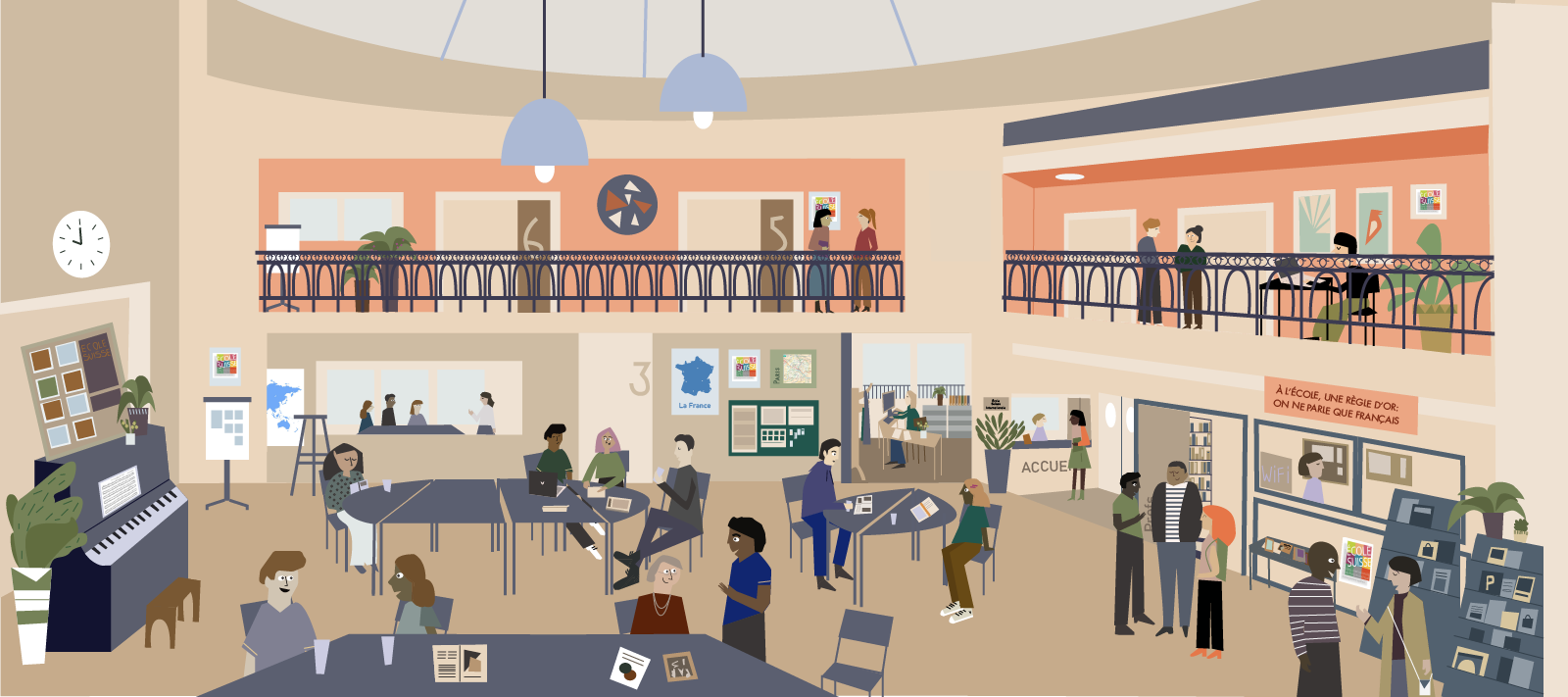 Actualité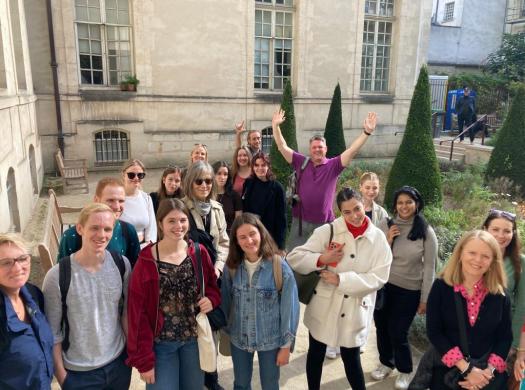 What's happening in Paris
Nouvelle semaine, nouvelle visite : les étudiants sont partis explorer le Marais, qui correspond au 4e arrondissement de Paris !
Colonne
Colonne
Our students share their experience

 
Colonne
Teodora

 I spent 2 weeks at the school in September. It offers all levels of French and the timeline is flexible - you can spend from one week to a few months depending on your preference and availability. The teachers are great professionals and after only 2 weeks I saw a drastic improvement of my level of French. The classes are engaging and dynamic, the atmosphere is really friendly and promotes cooperation between the students.
Studying at Ecole Suisse is also a great way to immerse in the French culture and explore Paris with the weekly organized cultural outings. I made wonderful new friendships here with people from all around the world. I believe this is one of the greatest things about the school - you meet a lot of like-minded, kind people who share the same passion for learning new languages and exploring new cultures.
I will definitely come back to the school for the next level of French. (October 2023)
Mercedes

 (Translated) It was a very good decision to choose this institute to improve my French. The teachers are very fun and know a lot, the classes are dynamic and the academic material is constantly renewed. They are also very attentive and interested in the tastes and needs of their students, and they bring exercises accordingly. One of the reasons I chose them was because of the cultural outings on Wednesdays and I was not disappointed. The teachers do their "homework" and prepare the activity as if it were just another class (as well as being fun because of the relaxed atmosphere). It is also the perfect opportunity to get to know your classmates, who vary greatly in nationalities and rotate every week.
I always felt very welcome and would choose them again if I could. Merci beaucoup a vous ! (September 2023)
Julia

 I attended Ecole Suisse Internationale for 10 days in June, as I wanted to have a complete francophone immersion to improve several aspects before a DALF exam. I was fully satisfied with my choice, as the methodology was just what I needed, and both the teachers and classmates were so supportive and fun, that the hours passed rapidly and everyone kept on talking in French during breaks. Special thanks to Veronique, who went out of her way to provide support in exercises, as she wanted to make sure that I'd succeed on the exam.I wouldn't have succeeded at DALF without their classes and this total immersion.
I recommend it 100% and I will go back for additional months of practice whenever they have my level again. (June 2023)
Manon

 (Translated) I spent several months at the École Suisse and can wholeheartedly recommend it! Not only did my French level improve drastically, but I also made many nice encounters with different students through the school.
Every single teacher is passionate about their job, which makes learning a lot of fun. The atmosphere of the team was very warm and informal, which immediately made you feel welcome. Even with personal concerns/problems, the team didn't shy away and always helped you.
The Wednesday excursions were very original every week and revealed an authentic, non-touristy side of Paris.
To summarise, if you want to have fun learning French with the best teachers, you should definitely go to École Suisse. (April 2023)
Kelsey

 Ecole Suisse is a fantastic school. The teachers are exceptionally skilled. They use a great mix of methods, have tremendous patience, and are very dedicated to student learning. The vibe is welcoming and cosy, and the class sizes are small. You could not ask for a better school experience. Tops! (June 2023)
Heidi

 Over the years I tried out several language courses in the heart of Paris, but none of them marked me like this. I tried to book a class, level C 1, and at this time there weren't any other students my level. So the principle sat down with me to build a special program where we transformed a regular group course into private lessons, a perfect offer, by the way. Furthermore, they let me completely choose and create my own schedule, waited for my wishes + suggestions and from there found the perfect teacher for every one of my preferred topics. In my case they gave me a complete insight in the french culture, including literature, cinema, poetry, theatre, philosophy, gastronomy, songwriting + music with specialists on each subject, leaving me with a different, perfectly prepared, prof every day. Another student from Istanbul was there to study architecture + interior design, same thing, they found someone to exactly fit her professional needs!
I'd like to add, how I talked to practically all the international students present at that moment, and every single one declared how happy and thrilled they were with the class, courses, teachers, excursions offered every week and the facilities inside this school, which really is located in the heart of Paris!
Every Wednesday we went out to visit different expositions, art galleries .. included in your course. The familiar atmosphere and the large space inside makes it super easy to socialize and meet new friends from all over the world. Also the teachers are always around to help + to even upgrade your experience! A large library where you will find practically every genre, including tourist guides, proverbs, semantic insights, free coffee and a large space to work on your projects.
Hard not to notice, I was absolutely thrilled by my experience and I thank those guys for a fantastic stay, for transmitting the french culture with such fun and profound insight and for always being at hand for whatsoever questions and wishes.
If you're looking for a place to get your french going, you'll find no better in all of Paris!
Enjoy Paris everyone!!! (March 2023)
Nelly

(Translated) My experience with the school was extremely positive. Thanks to the excellent method and experienced teachers, I was able to develop in 5 weeks what would have taken much longer with conventional schools. It's a pleasant environment that encourages you to develop in French. I'm very happy with my progress. Congratulations and I highly recommend the school. Au revoir !!!!  (June 2023)
Karen

 My husband Jay and I attended L'ecole Suisse for three weeks, February-March this year and we loved every minute of it. Situated in a lively energetic area of residential Paris, it is a small school with a big heart. From the moment we arrived each morning, until we left after lunch, we were supported academically and personally to achieve the very most that we were looking for individually.

The class numbers were perfect between 6-8 students, with a mix of ages and backgrounds which Jay and I found particularly enjoyable (we are 64 and 71 years young). Our superb teachers and administration team bent over backwards to offer a fun, interactive and encouraging environment in which to improve our intermediate level french skills. I cannot imagine the larger language schools are able to offer such flexibility and personalised attention to their students.
Class five mornings a week, followed by an optional lunch together and then Wednesday afternoon cultural excursion open to the entire school (all 23 students!), usually concluding with a glass of wine of cup of coffee together - it really was everything we anticipated and so much more!! Thank you l'Ecole Suisse, on reviendra! (March 2023)
Lauren

 THE ABSOLUTE BEST FRENCH LANUGAGE SCHOOL IN PARIS! I cannot not say enough good things about this school. The teachers and staff are simply fantastic and have really created a community culture and an easy learning environment. The way the courses are taught, in my opinion, allow you to really develop all skills in the French language: speaking, reading, writing and more! I spent several months taking classes with them and I can honestly say it changed my life here in France (getting emotional just thinking about my time there and wanting to go back to take more classes). The teachers really gave me the confidence to speak and I was able to get to a level to apply for jobs in French which was HUGE for me since I am planning to stay in France permanently. If you need to learn French, this is the school to go to! (September)
Elena

(Translated) I have spent two weeks at this school and I highly recommend it. They have a very good methodology and this makes learning French easy and fun. I would have loved to continue learning with them, but it was not possible. Even so, in these two weeks I have significantly improved my level of French. Both the teachers and the administrative staff are friendly and pleasant.  And their excursions on Wednesdays are great. (May 2023)
Tosca

(Translated) I attended the ecole suisse courses 8 weeks and I couldn't be more satisfied and happy.
Not only did my level of French improve a lot in a short time, but above all the school's familiar and positive atmosphere made my stay in Paris very pleasant. (May 2023)
Jan

(Translated) Very good experience :
- Very good value for money
- small groups
- Many different and very good teachers
- very helpful secretary
- friendly, family atmosphere
- weekly cultural excursions
- Support for my Master's assessment (help with covering letter, CV, etc.)
From September last year until March, I went to the Ecole Suisse to learn French. My aim was to reach a B2 level so that I could start a Masters in Paris from September this year. I heard about various language schools on Facebook and decided to write to them one by one. The secretariat at the Ecole Suisse answered my questions quickly and in detail and I was able to spend the same week looking around the school. During this appointment I was also able to take a written test and have a longer conversation with Thierry to determine my current level.
During the six months I was allowed to attend the school, I was never in a class with more than eight people. We were generally between four and six per class. The teachers changed every day. As a student, I benefited from the many different teaching approaches of the teachers, all of whom had their own style and were very good. On the whole, the Swiss School places great emphasis on the applicability of what has been learnt, the necessary grammar is applied directly in oral exercises and, on the whole, people are encouraged to talk a lot in class. So you've learned the most by talking a lot and asking your teachers to point out your mistakes. As well as grammar, you also learn thematic vocabulary through exercises, you read and discuss French texts together, you listen to radio reports together and answer comprehension questions, and you are given writing tasks. The Swiss School offers appropriate and useful work materials for each language level. I was amazed at how quickly we could read complete texts together in class.
Classmates came from all over and of all ages, and during the many discussions and conversations in and outside the classroom, we got to know each other very well. A special feature of the Swiss School is the large common room. All the students and teachers meet here during the morning coffee break.
You talk as if you were at a party. The shyness that everyone feels about speaking French usually disappears on the first day. You can quickly speak French to each other and improve your skills outside the classroom. I particularly enjoyed the school lunch. Everyone brings something to eat, then we sit together at the big table and have various conversations with teachers and classmates. You'll be surprised to discover what you can already speak in French and what you suddenly understand. This friendly, family atmosphere is also enhanced by the joint cultural outings every Wednesday. Here, of course, we don't go to the Eiffel Tower or any other very touristy place, but to the real Paris, if you please. When the weather's fine, you'll explore the city together and discover places like the covered passages or the coulée verte. When the weather's bad, we go together to exhibitions and different studios...
At the Ecole Suisse, I also received a great deal of support in my application for the Master's degree. Right from the start, I was able to talk to the teachers about the different universities and they made them aware of the very early application deadlines. When I finally started writing my application, I met Véronique almost every day, with whom I wrote my first cover letter and translated my CV. (April 2023)
Johannes

(Translated) The best language school I've ever been to! Everyone was incredibly nice. There is a very special atmosphere. I felt welcome from the first second. I took a two-week language course at an advanced level.
I thought it was great that the learning groups were so small (4-6 people), so you really had a lot to talk about. The course content was also very well structured and thought out, so that all language skills were covered. I learned a lot and now I feel much more confident in the French language because I spoke a lot. The topics were very varied, topical and interesting. It was fun to discuss and I also learned a lot about French society.
I also liked that in the advanced courses you had different teachers from time to time. So the classes were very varied and during the breaks together you felt like you were totally integrated into the language school community because you knew everyone.
The joint excursions that take place every Wednesday afternoon are particularly enjoyable. The language teachers always offer an interesting programme that goes beyond the usual tourist attractions. Since some of the teachers grew up in Paris or lived there for a long time, you get an excellent insight into life in Paris and lots of insider tips. After the trip, you always go out for a drink together, so you can practice your French and socialise in a relaxed atmosphere.
It was really a great experience. Thank you all! I will be back! :-) (April 2023)
Ed

 If you go to the Ecole Suisse, you will find the most attentive and kind teachers and the best students. As a result, you will be "An Mhucais" (Irish expression). I would recommend it to anyone - thank you very much!
Delightful school with delightful people, noted for attention to detail and lovely ambience. Class sizes are small and every Wednesday there is the opportunity to partake in "une petite sortie culturelle". Charming place :) (April 2023)
Ikuko

(Translated) This is the best school! The teachers are very nice and friendly, and they are great people who are close to each of you.
The students are of various ages and you can not only learn a language, but also learn French from people who have had careers in different countries. Full of human charm, you can develop friendships with adults eager to learn and adventure. The young students were full of energy and I really enjoyed interacting with them.
The classes are small and intimate. My favourite part was having lunch with the teachers and other students after class. There is also a café area where you can practice what you have learned while relaxing. (The school only speaks French. I think this is the best environment for those who want to learn languages).
Going to museums, picnics and bars after school and at weekends is also a wonderful memory.
The Ecole Suisse made me fall in love with France. I learned not only the language but also the culture, history and how to communicate with the French, and I was able to integrate into French society.
I am grateful to my wonderful teachers and best friends. Coming to this school has broadened my horizons and given me many opportunities. I am really grateful to you.
I highly recommend this school to anyone who wants to learn French. Please do not hesitate to contact the Ecole Suisse Internationale (April 2023)
Vittoria

I have a love case with the Ecole Suisse! I love the methodology, the professors, classmates…such a great environment! Very worth it.(March 2023)
Tavi

(Translated) I was here for a few weeks and I liked it a lot. I say I made a lot of progress, especially in "speaking". I found it interesting that there were many different teachers, which allowed me to see different points of view and teaching styles. In general, there is a lot of discussion in class and everyone participates. The maximum class size is 8 students, but often only 3 or 4. I guess it depends on the level. The most sought-after classes seem to be A2-B1 (February 2023)
Nicole

I attended this school and absolutely loved my experience there! The teachers were very helpful, attentive and kind; they created a collaborative and supportive environment for learning and practicing French. The class sizes were small, and I enjoyed getting to know my fellow students. They use good educational materials, and their feedback on speaking and writing in French helped me improve. I highly recommend this program! The school is also in a great location. I enjoyed my walk to class every day. It was a memorable experience. (February 2023)
Gregory

Fantastic language school. Very highly recommended if you are looking to learn French in Paris.
Advantages:
- Small class sizes (my classes varied between 2 and 6 students).
- Reasonably priced.
- Flexible course structure, customised for your requirements. (From mastering a particular grammatical form to exam preparation.)
- Wonderful, friendly teachers who genuinely care about their students.
- Facilitated Wednesday "cultural outings" to apply your French around Paris and see some of the city.
- Efficient support and warm welcome from an amazing administrative team.
- You'll learn with a small group of students at your level.
- The classes are great fun, with a variety of exercises and learning methods.
- You will make friends with other students and maybe with the teachers too!

Disadvantages:
- Eventually you'll have to leave and then you'll miss the school and all the friends you made. :)(February 2023)
Ana

(Translated) It's just one month since I left the school and am back in Spain. It's a good time to look back and thank the school, the teachers and the students for the great 7 weeks I spent there. I spoke yesterday with a French friend of mine in French and she said that I speak very fluently... :-) Thank you because it's largely thanks to you! I'll see you later! (January 2023) 
Baopu

 (École Suisse was one of the best educational experiences I've had in my life and I am so happy I chose to go there to learn French. Located in the bustling 10th arrondissement, École Suisse offers a dynamic and engaging language teaching pedagogy which really improved my French - even though I was only there for three weeks!
Unlike most language schools, classes here are not rigidly structured, but are instead more of a fluid dialogue between the professors and students. For example, maybe while discussing how to use the past tense in French a student starts talking about the museum they visited last weekend - before you know it, the whole class is discussing their favourite museums in Paris! The professors really encourage these "detour" discussion and they use them to teach the class new expressions and grammar (as opposed to coming in with a checklist of pre-selected grammar points). I found this approach so refreshing and helpful - it really encourages you to develop natural conversation skills, which is probably the most important thing at the end of the day. Of course, that is not to say École Suisse shies away from teaching grammar, vocabulary etc - it just does so mostly through interesting, spontaneous interactions as opposed to boring exercises and drills. École Suisse is able to do this because class sizes are very small - none of my classes had more than 6 people. If you can, I would also recommend going to the afternoon classes as well - those ones are essentially a big discussion in French around a certain theme (ie. Education systems, pop music, movies etc) and they really push you to improve.

All this could not be possible without the teaching staff at the school, who are not only experts in what they do, but also very pleasant to be around. For all the stereotypes of tyrannical French teachers who explode into anger if you misgender a noun, there was absolutely none of that here. While classes were no doubt challenging, I always felt well-supported and encouraged by the patience and understanding of the professors. All of them are actually very funny as well, and you will definitely laugh as you learn!

Overall, I would highly recommend École Suisse to anyone looking to spend some time in Paris learning French. The memories, friends and language skills I gained while I was there I will carry with me for a lifetime. (January 2023)
Vivian

 I had a great time at Ecole Suisse which encourages students to communicate in French during and after class. We learn better when we have fun! (December 2022)
Costanza

 (Translated) I attended the Ecole Suisse Internationale for 4 weeks and I am very happy with the choice and the results. The teachers are prepared and extremely helpful, the groups are very small (max 8 people) and this helps to improve your French because you have the possibility to talk a lot in class. Moreover, the atmosphere in the school is very pleasant, we often eat together, students and teachers, and we have constant opportunities to speak French, according to their motto "à l'École on parle que français". The Wednesday afternoon trips to discover Paris are also a good opportunity to continue speaking and listening to French and to get to know the people at the school better (all very motivated!)
Super recommended for those who want to learn French well! (December 2022)
Juliana

 (Translated) I took a two-week intensive course at the end of October as a "Bildungsurlaub" (German option to take a training holiday) and I found it a great experience where I managed to make friends of different nationalities.
I feel that my level of French has improved a lot and now I feel more comfortable speaking, plus my acquaintances in France say that they can make a difference. I really liked the teaching system and the possibility to have classes with different teachers. The building is very nice and for me very well located near the Gare de Nord. All the teachers, including the administrative staff, are super friendly and ready to help you with anything you need, and you can tell they do their job with pleasure. I think it's great that they encourage you to speak French all the time and even encourage everyone to have lunch together (teachers, students, administrative staff) to practice French.
The Wednesday afternoons offer very interesting cultural outings as they invite you to discover Paris from a local point of view.
I totally recommend this school! (November 2022)
Sarah

 (Translated) I spent 3 months at the Ecole Suisse Internationale and I can only say that the school is really great! I can recommend them to everyone, whether they are beginners or advanced, young or old. All the teachers are very nice, open and helpful and it's always fun to go to the school. As the groups are very small, the teachers can focus a lot on individual problems, which allows for rapid progress.
The Wednesday afternoon excursions are also only recommended, as they are not the 0815 attractions of Paris, but hidden places that are a bit less known :-)
I had a great time in Paris and I am very happy to have discovered this school! (November 2022)
Colonne
Colonne