Image
Image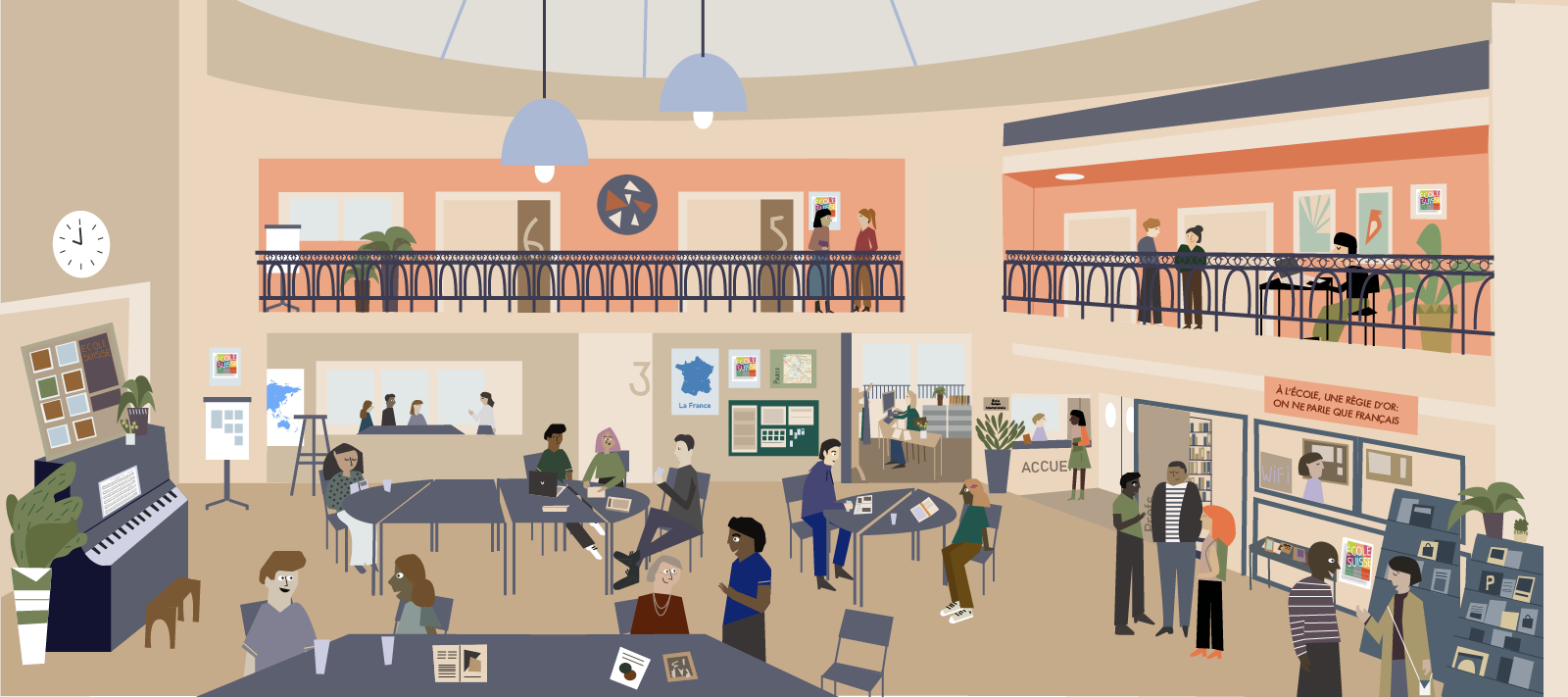 Contenu
Colonne
Colonne
Learn French in Paris, Dijon or online.
Colonne
Quality French tuition and premium customer service.
The École Suisse Internationale welcomes students all year round to study French in a friendly and conducive learning environment. Our teaching methods are effective and we offer programs that can be adapted to accommodate your needs.
 
Two intimately-sized French language schools designed to optimize networking, connection and communication opportunities.
A warm family atmosphere in two spacious, comfortable settings.
Small-sized French classes for each proficiency level.
Flexible French language program options.
Individual support mechanisms adapted to each student's profile.
Highly qualified and experienced teaching and administrative staff.
Our teaching approach is verified and certified annually by the Swiss EduQua quality label.
 
Discover the pleasure of learning and expressing yourself in French. Enjoy an authentic French experience.
Full immersion in French language and culture.
Opportunities for spoken exchange and intensive conversational practice both inside and outside class-time.
Active, participative teaching methods.
Methodical, concrete French tuition.
Original course materials developed entirely by our teaching staff.
Individual educational support to tailor the learning experience to your personal needs and objectives.
Native French language teachers to assist you with making solid, rapid progress.
 
► DISCOVER OUR FRENCH CLASSES IN PARIS
► DISCOVER OUR FRENCH CLASSES IN DIJON
► DISCOVER OUR ONLINE FRENCH CLASSES
A long history of teaching French and hosting cultural exchanges.
The École Suisse Internationale is the primary activity of the Cercle Commercial Suisse, a nonprofit association founded in 1881 in Paris. We first inaugurated our French school in Paris in 1933, and then our school in Dijon in 1995. Over the course of all these years, the École Suisse Internationale has established a solid track record in teaching language learners from a range of different backgrounds (students, professionals, teachers…) and who hail from different nations around the world.
 
Actualité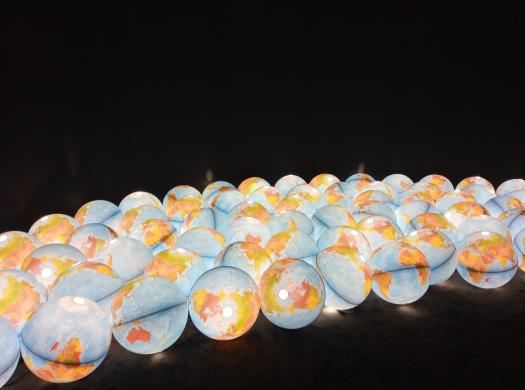 What's happening in Paris
La semaine dernière, nous avons visité une très belle exposition à la fondation Groupe EDF sur la thématique du voyage, illustrée par les œuvres de 32 artistes contemporains, français et internationaux.
Colonne
Colonne
Our students share their experience

 
Colonne
Grace

 This was one of the best language schools that I have tried. Friendly professors. Small class sizes. Comfortable and welcoming atmosphere. The professors are truly happy to be there and there are different classes for each proficiency level. I would love to further my knowledge of French here again! (August 2022)
Lin

 Highly recommend. It was a super nice experience with this language school. the organization, the ambiance as well as the caring of all professors. you feel completely free and motivated to speak out in French. (August 2022)
Izabela

 (Translation) I highly recommend! Great teachers, atmosphere, classes at a high level, a hit :) (July 2022)
Eros
I am Brazilian and a language teacher (Portuguese, English and French) in Paraná, South Brazil. During my training I had the opportunity to live in Europe for some time to study and work.
More recently, in May 2022, I decided to devote myself more to the study of the French language, and to this end I discovered with enormous satisfaction the Swiss International School in Paris, an extraordinary institution in many aspects: excellent location, very pleasant building architecture, welcoming people, teachers invested in teaching and always ready to listen to each and every one of the students; there is a very positive atmosphere at the school and one feels good there. This atmosphere encourages interaction at all times with the other students, with all the teachers, as well as with the director and the secretarial staff.
Beyond the linguistic progress, my French course at the Swiss International School in Paris was for me an unforgettable experience, with positive effects on my attitude towards the efficiency and quality of these daily interactions, which I will always try to spread among my students in Brazil. (June 2022)
Jingyi

 Super! Out of my expectations! I studied here for two months and I made a big progress in French! At first I was at A2 but I was so poor in oral speaking and writing. However, in this school, there is a principle 'only French at school', so I had lots of opportunities to practice French with professors and other students! At the end, I improved a lot and reached B1☺️ It helps me prepare well for my current job! What's the most important is that everyone is so nice in the school, there are round table, afterwork and many other activities to help us improve French and networking! Highly recommend! (June 2022)
Mercedes

 (Translation) The teachers are brilliant and the classes are very practical and very focused on the daily use of the language. Very grateful! 100% recommendable (June 2022)
Dan

 I spent 4 weeks here in May. This place is fantastic. Classes are small and when I was there I think there were about 20 or so students taking lessons at about 4 different levels, so it felt very personalized and small scale, in the best way. It's kind of like a family, but a family where the members are from all over the world. The teachers are enthusiastic and funny, there are lots of personalities, almost everyone eats lunch together, and students hang out together outside of class. All in all, a wonderful and memorable experience. Go here! (June 2022)
Yaqun

 (Translation) I highly recommend this school to anyone who wants to learn French in Paris! I looked at a few different schools online and finally chose this one because they had the most detailed information on their website. I studied here for two months. The classes are small and the choice of how long to study is very flexible. Each week we rotate through grammar, writing, reading, vocabulary, listening, and speaking. The teachers are very enthusiastic and I feel that they are very patient in correcting my pronunciation, explaining what I don't understand and are very concerned about my progress. Every Wednesday afternoon, the school organises cultural activities such as visits to museums and other places in Paris. After two months of study, my French has improved significantly and I can handle many everyday conversations, express what I want to say, understand a lot of French in my life/around me and speak it with more confidence than before!
I have also met students from different places here. We would go out together at weekends or go on picnics in the park. Later on, even though there were no more classes, the teachers would invite me back to have lunch with them. All in all, I recommend this school! (May 2022)
Melanie

 (Translation) I took a week's educational leave at this school during the 2022 Easter holidays. It was a great experience that I can only recommend to everyone.
The school is very well organised and the teachers take excellent care of everything. It is a very open and friendly atmosphere. You are welcomed as soon as you arrive. You can arrive in peace, have a coffee or tea, read the newspapers of the day or chat with the other students or teachers in the entrance hall. The classes are small, so you can learn well. The teachers are all very nice and patient, answer all your questions, give you tips and help wherever they can. Excursions are organised and you get lots of tips on what to do in Paris.
All in all, it was a very nice experience for me and I will definitely come back again. -Thank you! (April 2022)
Eileen

 (Translation) I took a French course at this school for 1 month and it was really the best decision I could have made. Not only did I improve and practice my French, but I also met and made friends from all over the world and had a great time being there.
Excellent school, teachers, location and atmosphere! (April 2022)
Agnes

 I attended the school for three weeks and did not regret my choice for a moment. The atmosphere is very open and you feel welcome. The lessons are varied and you learn not only conversation but also grammar. The teachers are supportive and you can improve your language skills in small steps and become more confident. I also enjoyed the exchange with students from all over the world. A very nice experience! (March 2022)
Júlia

 (Translation) I really enjoyed the school experience! The teachers are very dedicated, willing to help with the needs of their students and they encourage a lot of conversation even among beginners! The atmosphere is very friendly! (March 2022)
Emma

 (Translation) Best language school in Paris!
I followed the semi-intensive programme here for 2 months and it was great! The teachers are incredibly friendly, helpful and really want to improve your level of French. The atmosphere of the school is very family-like and you immediately feel at ease there. The teachers let you talk a lot, which was most important to me. Highly recommended for anyone who wants to improve their French! (February 2022)
Sean

I highly recommend this school! I have been taking classes for two months and have greatly improved my French language skills during my time at the school. When I started the classes, I had never taken a French class before in my life, but the school is very accommodating and patient with beginners. Small class sizes encourage participation and allow the professors to provide one-on-one coaching with each individual student. The professors also do a great job of keeping the classes lively and fun, even when covering difficult material. There is a strong sense of community at the school and it is a great way to meet new people from all over the world if you are new to the city of Paris. My experience at the school has been a highlight of my time living in Paris! Thank you to the whole team at ES!! (February 2022)
Alessandro

 (Translation) The quality of the teaching and the teaching materials offered are of the highest level, each student is welcomed with the utmost attention and accompanied towards his or her objective through a personalised course to guarantee the highest chances of success. In addition to being professionally impeccable, the teachers are also exceptional people with a unique sensitivity, who will make you feel at home from the very beginning. Recommended with closed eyes! ( January 2022)
Colonne
Colonne